Use Monitoring and alerting for process monitoring meaning to detect which processes work at operative ranges.
CREMAnufacture processes, mainly acquisition processes are monitored in order to see which of them work properly. The monitoring is carried out by using business rules previously created by the user. The business rules are associated with KPIs which are used to determine which of the variables acquired with the process are working properly. When the variables reach the KPIs alerts are triggered, allowing the user to instantiate maintenance processes.
Easy business rules creation
The CREMAnufacture monitoring integrates an easy way to create business rules intuitively. That means that the user can use the components user interface to select which business rule create and apply to every process. Each process can have multiple business rules associated, resulting to have multiple alerts. The CREMAnufacture monitoring module is able to deal with complex business rules, meaning that a time window can be considered in order to trigger the business rules. A time window based business rules allow the user to control false positives in an easy way as the user can limit the verbosity of the module.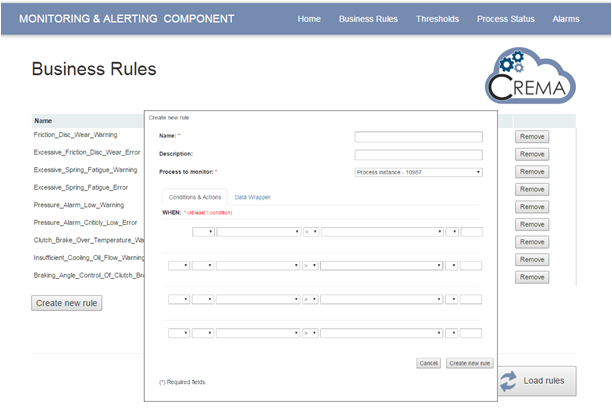 Intuitive user interface
The monitoring component integrates an intuitive user interface to make user`s life easier. The user interface apart from only being used for business rules creation is also used for other purposes such as maintenance process execution. Every time a business rules meets a KPI value an alarm is triggered in the CREMAnufacture platform, so the user will have the opportunity to execute a certain maintenance process associated to the alert. In the same way the monitoring module provides information about current processes, current created business rules and current alerts.